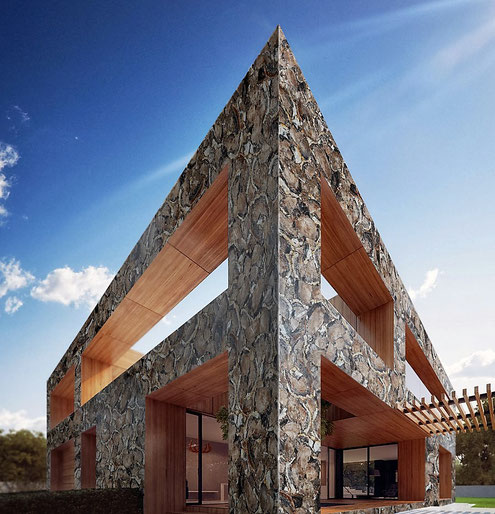 Petrified wood of versteen hout in goed Nederlands is feiteijk gefossiliseerd hout waarin alle natuurlijke organismes zijn vervangen door mineralen. Dit is een proces dat gebeurt als het hout bedolven raakt onder sediment en kan miljoenen jaren duren. Het eindresultaat is een zeer sterk materiaal met de orginele structuur van hout. De kleur wordt bepaald door het soort mineraal wat zich heeft afgezet en gaat van bruin tot geel en van wit tot zwart.

De versteende delen boom worden gezaagd tot ronde schijven of tot rechthoekige vormen en worden met een zeer sterke epoxy verlijmd tot een plaat. Van deze platen kunnen de mooiste elementen gemaakt worden voor interieur zoals; wandplaten, vloerdelen, keuken- en wastafelbladen.

Met een speciale epoxy hars en leather oppervlak afwerking is het materiaal ook zeer geschikt om buiten te gebruiken. Het wordt toegepast als geventileerde muurpanelen bij luxe villa's (links afgebeeld brown petrified wood) en omdat het ook gebruikt kan worden in een zoutwater omgeving wordt het zelfs op luxe jachten toegepast.
Wat de toepassing ook is, het zal een zeer exclusieve en tijdloze uitstraling hebben! Klik op de READ MORE knop linksonder voor de gallery met zeer fraaie voorbeelden.