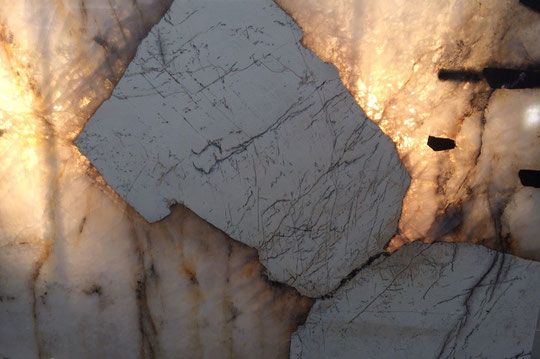 Gedurende de Stone Week 2016 georganiseerd in de indrukwekkende Stone Gallery van Antolini werden weer een hele reeks aan nieuwe materialen gepresenteerd. Sommige van deze materialen waren al te zien op de beurs van Verona September 2015 maar dat neemt niet weg dat het een mooie selectie van nieuwe materialen was. Antolini is gebaseerd op het aantal materialen in natuursteen op voorraad de grootste ter wereld en zij weten zich altijd goed te presenteren. Het is een van de beste plekken om een begrip te krijgen van de oneindige mogelijkheden op het gebied van natuursteen en ook wij zijn er vrijwel dagelijks te vinden. Toch komt het heel vaak voor dat wij bij een andere leverancier beter kunnen slagen omdat die net voor dat specifieke materiaal meer keus heeft of bijvoorbeeld hele gunstige afmetingen van de platen.
Links de Patagonia die zeer geschikt is voor verlichting van achter. Klik op de read more knop voor meer materialen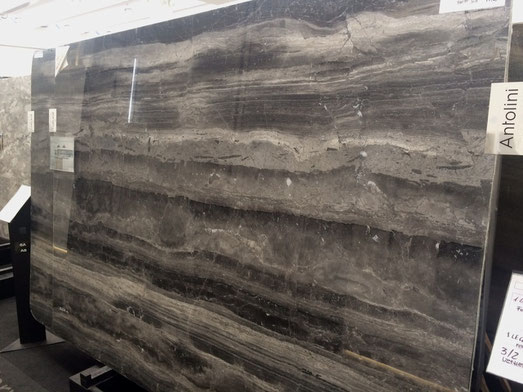 The Advan Fantasy VC is een marmer met een mooie gelijnde structuur die zowel in klassieke als moderne interieurs toe te passen is. Gris de Roi en de Nero Antico (see de foto's in de gallery) zijn marmers met een exclusieve uitstraling en zullen zeker hun weg vinden naar de luxueuze interieurs. Ze zijn ook goed toepasbaar in open boek. De Atlantic Grey behoort tot de familie van de granieten vanwege karakteristieken als hardheid en vochtopname maar heeft meer de structuur van een marmer. Het is feitelijke een harde kwartsiet maar goed toe te passen als werkblad. De Grisbrown Quartzite valt op door zijn eenvoud en uniforme structuur en zou heel goed passen in een strak en modern interieur.
Zie de gallery hieronder voor de foto's en meer info of neem contact op met Jurjen de Baar
Tel 0039 3452109669
jurjen@purenaturalstone.com